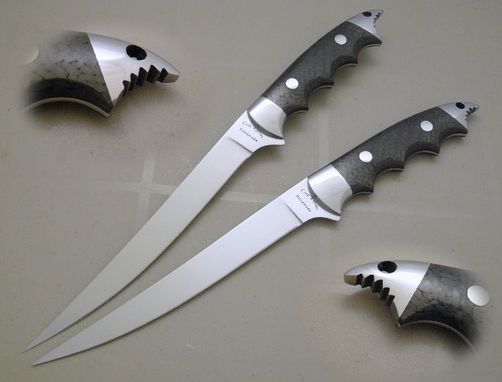 Fillet knives with carbon fiber handles, blade steel is RWL 34 stainless steel. Blade is 7" with an overall length of 12", front and back dovetailed bolsters are 416 stainless steel, back bolster is carved to resemble a sharks head.
All of our products are handmade
by expert makers.
William C.'s review

• Nov 14th 2017

GC Made a beautiful knife, on time, on budget, was easy to work with, has excellent communication skills, and I'll go back to him for another lknife in a heartbeat. The knife itself is well-balanced, Sharp, has a highly polished edge which shows no residual wheel marks ( The edge is not only honed, it is highly polished), and is a delight to use. GC It's an old-school craftsman, in the best sense of the term.

Joaquin P.'s review

• Aug 22nd 2016

I am very satisfied with the Custom Fillet Knife that I received few days ago....The fillet knife is gorgeous, perfect and it is beautifully made. Everything that was promised to built this knife was accomplished... The communication between me and the maker is very professional and I was always kept informed of the status of the knife project I will highly recommend this maker to anyone and on a scale of 1-5, 5 being the highest I rated 5+++.

I can't hardly wait for my son Tom who is in Ft. Myers to try this fillet knife on the Red Snapper and Gag Grouper white thick meat. He would love this fillet knife for I had it custom made for him for his upcoming birthday In November 13....

I would absolutely highly recommend this custom made knives maker to anyone whom need a beautiful fillet knife that would last in a life and professionally made in Ontario , Canada..(I plan to order a Skinner or a Hunting knife from this same maker in the near future....)

Joaquin, a Proud owner of this beautiful fillet knife.

Deyong C.'s review

• Oct 11th 2015

I'm very happy with my knives, beautiful and functional. I have already ordered other knives from Gill.

Joey's review

• Aug 27th 2013

Truely the best knife i own.It doesnt get any better.Gill is a master at his craft and a pleasure to do business with.I would recomend his work to anyone.