Fireman Flag And Medal Display Case- Shadow Box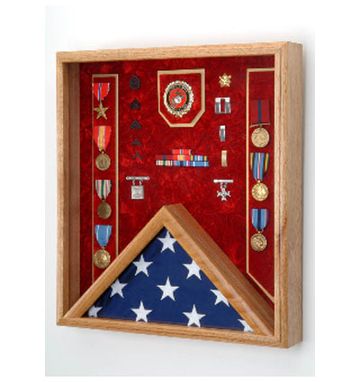 You name the combination of flag and medal display, this case is for you. For firemen, police officers, U.S. Air Force, U.S. Army, U.S. Coast Guard, U.S. Marine Corps, U.S. Navy. Present this Deluxe Combo Flag/Awards Shadow Box for storing and displaying those keepsakes that matter. What better way to showcase the service to a community as a firefighter than with our Fireman Flag and Medal Display Box. This special flag shadow box case can also be used a Medal Presentation Box for austere occasions such as graduation from a specialized program, awards for outstanding service, and public service anniversary recognition. The Fireman Flag and Medal Display case- Shadow Box is available in either solid oak or walnut, this Fireman Flag and Medal Display Case, Shadow Box, comes with a laminate panel back with hanger already installed. An embossed 2 1/2 inches service emblem is included with this custom flag and medal display case, with optional personalized laser engraving. This case can also be optionally ordered to accept a folded 3 ft x 5 ft folded flag. The high-quality glass front covers your keepsakes, which are housed atop a rich, crushed velvet background. This Fireman Flag and Medal Display Case Shadow Box measures 18 inches wide x 20 inches high x 3 inches deep, with raised mounting surfaces. TheseFireman Flag and Medal Display case- Shadow Boxare solid red oak and walnut cases are crafted in authentic oak or walnut – we do not stain our wood to create any type of appearance. What you see is what you get, in rich red oak or walnut, and we prefer to finish it with a clear coat to enhance the beautiful grain and preserve the natural color of the wood. For those who want to display more than just one flag, this wonderful Fireman Flag and Medal Display case- Shadow Box ia a addition to a corner in your home or office is a keepsake for multiple purposes. The combinations of flag and other type of memento are virtually endless. Use this Corner Flag Case as a military branch display case, a memorial flag display case, a burial flag display case or a police flag or firefighter flag display case. Whatever the end use, this attractive flag display case, roomy enough for double use as a flag and special keepsake display, is perfect gift for police, fire and military servicemen and servicewomen and their families. Fireman Flag and Medal Display case- Shadow Box. US Air Force, US Army, US Coast Guard, US Marine Corps, US Navy Deluxe Combo Awards / Flag Shadow Box 18"W x 20"H x 3"D With Raised Mounting Surfaces.
All of our products are handmade
by expert makers.