Flag Display Box, Wood Flag Red White And Blue Box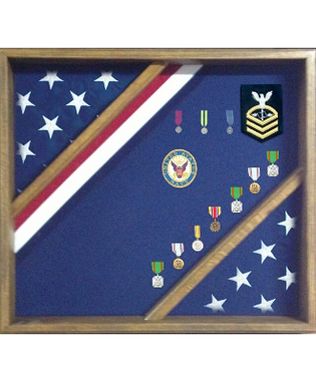 American Flag Display case . Use a Patriotic Flag Display Case to Honor Military Service. An American flag display case is the ideal present for many occasions. A patriotic holiday, such as Memorial Day or the Fourth of July, comes to mind right away. You can also use it as a thoughtful gift for a retiree, or for a friend or family member's birthday. Made of your choice of oak or cherry, this high quality flag case is designed to look like the American flag. Handmade by veterans, this patriotic flag display case is a keepsake that can be shared with many generations. It is a way to honor the accomplishments of the recipient. This flag display case is large enough to hold a 5 x 9.5 burial flag or a 3 x 5 flag. It can also be used to as a way to display photos, certificates, coins, medals and other types of memorabilia. Both recent graduates of a military academy as well as current members of the military will enjoy being gifted with this patriotic, red, white and blue display case. For the veteran who has various pieces of memorabilia and mementos collecting dust in their attic, a flag display case is the perfect place to display them. Its patriotic flag background of red, white and blue makes the perfect place to highlight such mementos. Suitable as both a wall mounting as well as being displayed on a shelf, it is designed to be a source of conversation and pride. The patriotic red, white and blue flag display case measures 22 inches by 26 inches. You can choose between background colors such as black, blue, red and green. The mounting backing is included as well. It is ready to hang where you like or to display on a mantle or shelf as soon as you receive it. For a handsome way to honor a fallen member of the military, or those who are dearly departed, you can choose this patriotic flag display case. It makes the perfect place for you to display a burial flag. You can preserve the memory of the proud service the men and women of the military provided to the country they love and support. These high quality, handmade flag display cases make the ideal way to show a member of the military how much you appreciate their service. With its patriotic red, white and blue, this flag display case will bring a sense of pride to your favorite military man or woman. Dimensions : OD 21 1/2" long x 19 1/2" tall. Inside Dimensions 20" L x 18" H x 1 5/8" Deep. Or for the 5x 9.5 flag case . Dimensions: 27 1/4 Long x 25" 1/2 Height x 3" 3/4 Deep. Inside Dimensions 25 3/4 Long x 24" height x 2" 7/8 Deep.
All of our products are handmade
by expert makers.