Flights Of Fancy Bud Vase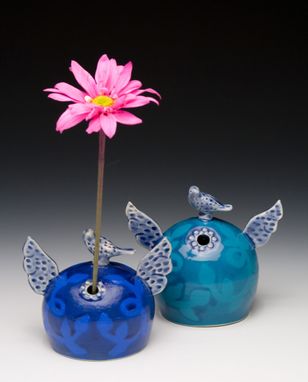 Approximately 8 x 6 inches

Available in: French Blue/Cobalt, French Blue/Turquoise, Forest Green/Turquoise, Amber Brown/Turquoise, White on White and White/Turquoise.

Back in the days of old, I used to receive one sweet posy per week while being wooed. I didn't know what to do with these sweet little flowers as they would flop helplessly from side to side in open mouth vases. I love that one little flower can hang out in these little winged orbs with a curious little bird protectively watching over the piece. The design is done free hand and a glossy glaze lay over a matte velvety texture.