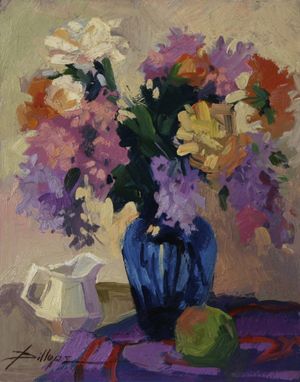 FLORAL & STILL LIFE
Most of these paintings are still available, so if you are interested, please contact the artist for size and price.

The tea cup, oranges and bouquet of roses in the blue vase, is 20x16 and markets for $2400. However, need it larger, change of colors? Let the artist know...and she will do a custom creation for you... actually if you find that you like any of these, but perhaps it is not large enough, or small enough, or the colors that you need, to enhance a room in your home or office, then send fabric samples and let the artist know what size you need, and she will work with you, in all aspects!


The large violet square painting, is available, and approx. 30x30.

The Water Lilies is about 22x28, is available, and was created from the reflecting pools in San Diego California.

THE RED DOOR, no longer exists, but was once upon a time, on Catalina Island...but the painting is still available...and is about 18x24 (but check first!)...

The moody little "IN THE SHADOWS", is 10x8", but could be enlarged to a really loose, more abstract creation!!!
As is the one following, if you notice, is the same set up, but flooded with light! Also 10x8 inches!

The "golden" water lilies might also still be available...but a great one to shift to almost any color combination, and size, to fit your personal needs!

And the tea cup and rose is 12x12 and markets (framed) for $1275.
Dimensions: UPON REQUEST