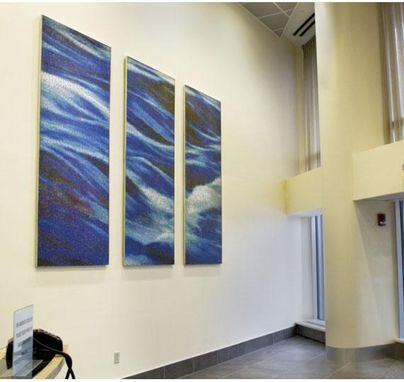 Recognized throughout the region for delivering exceptional patient care in a compassionate environment, St. Elizabeth's Medical Center prides itself as being a modern facility. Always thinking of their patients, the hospital hired architecture and interior design firm Silverman Trykowski Associates (STA) to provide a fresh design to the interior of a newly built entrance lobby.

Due to the lobby's large volume and expansive focal wall, STA needed an impressive design element to unify the space and create a welcoming atmosphere for patients.

Artaic designed a gentle, rolling wave that not only creates a calming and reflective environment for visitors, but also takes into account the corporate colors of the building. Dark blue hues are accented with opalescent white highlights to create a tranquil scene.