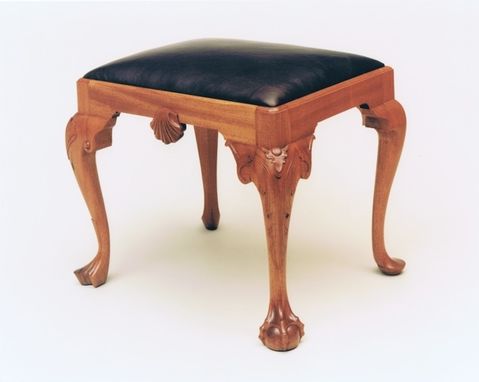 This mahogany footstool was built to demonstrate the different look of four distinct styles from the Georgian period (1714-1795). This is the era when England was ruled by George I, George II and George III. Many believe it was the influence that travel had on the exchange of ideas around the world that led to the integration of styles and designs of England and the colonies, as well as other European countries.
Furniture built in this time period can often be more accurately labeled as Chippendale, Hepplewhite or Sheraton specifically, but given the similarities in the design it works nicely to categorize them all within the Georgian period.
The footstool (as shown here) has one Chippendale ball and claw foot with an acanthus leaf carved on the knee. On the back right there's a Queen Anne pad foot. To the left is a trifid foot (also known as a "drake" foot) completed with a shell carving on the knee. In the far back is a slipper foot, most of which is not seen in the photo.
Dimensions: 24 " x 18" x 18"
All of our products are handmade
by expert makers.