For The Birds Egg Decoration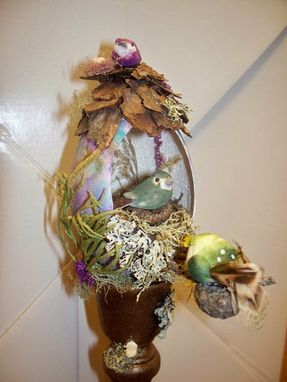 his egg is literally "for the birds"! A goose egg is hand-colored in your choice of colors for a marbled effect. I is then cut, and decorated with natural materials, just ready to be inhabited by some feathered friends.

The egg is placed on a wood stand that is painted in a metallic color and decorated with natural materials. Entire height of piece is ~12" depending upon size of egg and "roof"

This egg can also be created as an ornament for a lower price, or a larger egg can be used. Please contact me for more details.

This is a great and unusual addition to any one's collection.