Forged Iron Floor Lamp With Table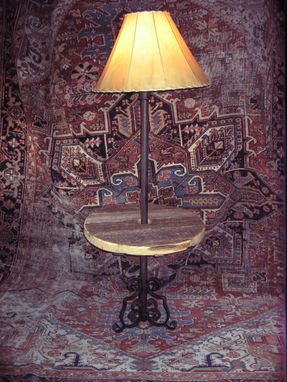 This is a very heavy steel floor lamp. At a height of 61 inches and a weight of 36 pounds, the vertical steel gas pipe is welded to the beautiful heavy forged Iron pieces that are hand made at B. Rourke and Company in Burnley England. The 23 inch diameter pine table is made from lumber salvaged from livestock holding pens and corrals in Western Colorado. The dry climate of the Colorado high country has aged and weathered the wood and given it color and character. The steel part of the lamp can be finished in a dark, almost black aged metal look or can be had in a rusted appearance. The table is heavily varnished to preserve and protect the character and texture of the wood.

There are heavy steel straps screwed to the bottom side of the table to insure its integrity.

The 3 way switch and the wiring components are all UL listed parts and the lamp is wired to UL Standards. This lamp is complete with a harp and a finial of solid steel that will have a finish matching the finish of the lamp.






The 21 inch diameter shade is available in a vertically piped off white linen with a silk taffeta lining and vertical striping. Also available is a hand made rawhide shade on a heavy steel frame. The rawhide is tanned from New Zealand sheepskin.




With a table as part of this floor lamp, you have the strong overhead lighting you need while reading in your favorite chair, and a place for your beverage, television remote and snack.

Priced at $1550 with the linen shade or $1850 if the rawhide shade is more to your liking.