Form Table, Angry Dog Table, And Alligator Table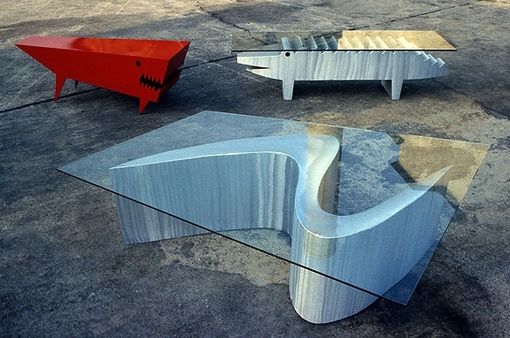 The "Form Table" (front) by California sculptor Bruce Gray is constructed in welded aluminum and also available in stainless steel. It forms an elegant sweeping S curve, and supports an odd angled glass top. Bruce's most popular coffee table, the classic Form Table is available at $4200. Base dimensions: (16" x 47" x 27") Glass dimensions: (55" x 42")

The "Angry Dog Table" was the first in Bruce's series of angular geometrically simplified animal tables. This attention grabbing table in bright red powdercoating refuses to go un-noticed! The Angry Dog Table is available in a wide variety of powdercoated colors at $3600, or in brushed aluminum at $4200, and in disk ground stainless steel at $6200. (16" x 16" x 48")

The "Alligator Table" is all welded aluminum with a striking disk brushed finish. This table is part of the corporate art collection of The Academy of Motion Picture Arts and Sciences. (16" x 12" x 59") The Alligator Table is available in powdercoated paint in any color for $4400, or in disk ground aluminum at $5000, or in disk ground stainless steel at $7000.