Fox Clutch From Your Recycled Leather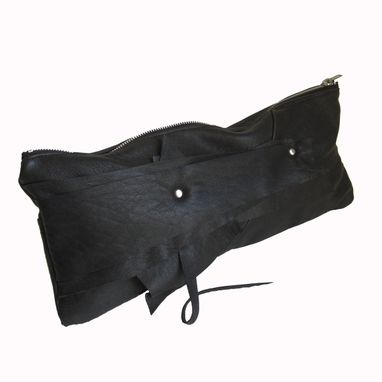 Have a favorite vintage leather coat, skirt, or pant that no longer fits or is wearable? Do you have your first love's motorcycle jacket but has been partially damaged? Let me turn that thrift store or garbage bound item into a keepsake and fabulous accessory for you.

Send in your vintage leather coat, skirt, or pant to be made into a one of a kind Megan Leone Fox Clutch. (medium to light-weight leather only)

This is a highly functional and fashionable handbag that is versatile enough to go from working to shopping to clubbing.

Your hand slips through the front cuff to hold the handbag comfortably.

For this style, the interior has 1 interior pocket and is fully lined. I will choose a lining from my vast collection of linings. You can request colors. I will then send you pics of possible options.

Each is one of a kind and will vary from the one in the photo.

Feel free to contact me with any additional questions. Thanks for taking a look!
Dimensions: Approximate Handbag Dimension: 14" x 6" (35.6 cm x 15.2 cm)