Framed Etched Glass For Walls Or Windows Dolphins/ Wildlife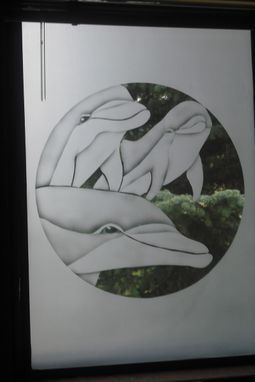 This is what is known as a shaded etched piece of art work. It is created by drawing then cutting and sandblasting different elements of the design at different times or stages. Shading give a dimensional depth effect while just dusting the glass.This art work can be used to hang in a window with a dark background such as trees, fences, parking lots, or even on a wall. Those dark elements help to show off the monochromatic scale of what shaded etching provides. Its a lovely art form. We call this one " And you think you are alone"
Dimensions: Can be created to suit!