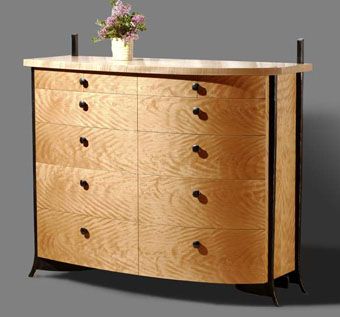 Designed and built for clients for whom I had previously built a Sleigh Bed and Bedside tables of figured Cherry. The bowed front reflects the curves of the Head Board, Foot Board and Bedside Tables. The Length was determined by an adjacent wall with a window to the left and a doorway to the right. This piece needed to be as wide as possible without feeling pinched.

Figured Cherry and Maple Woods w/Hand Forged Steel base and Pulls, 12 Dovetail drawers.

$17,000 as shown, Prices may vary with cost of materials.
Dimensions: 5 ft L x 4 ft H x 2 ft D