French Vanilla Soy Candle 9 Ounce In Hexagon Jar Wih Daisy Cut Lid, Wood, Hemp Or Cotton Wick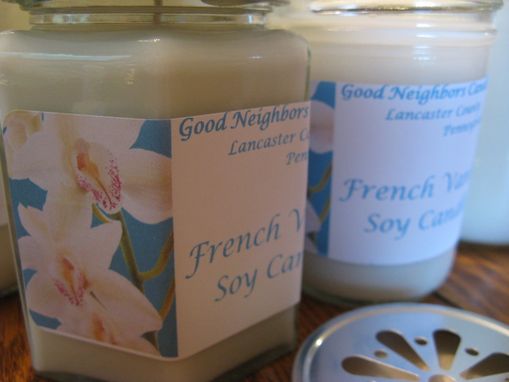 A safe choice. Kind of like choosing the Vanilla Ice Cream when faced with a myriad of flavors this soft fragrance is on my best seller list. Whether you are looking for something for a guest room or a gift for a friend, this is a great choice.
Want candles for your tabletop?
This scent is perfect.

I would categorize this fragrance as light.

The Nine Ounce Hexagon Jar is fun. It is a sturdy glass and with the daisy lid is very attractive.

Keeping candle maintenance and safety in mind...trimming your wick before lighting each time and extinguishing the flame when there is approximately 1/4 inch of wax remaining is recommended.