Fresh Linen, Soy Candle, 8 Ounce, Lidded Glass Jar, Tan, Fresh And Clean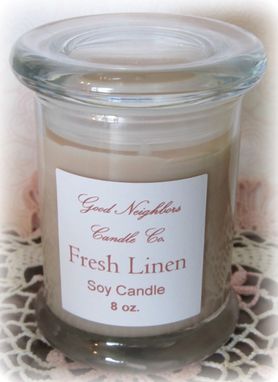 This is a very wonderful jar with a fitted flat lid. The fragrance is one that grabs attention at every craft show I've ever taken it to.

Funny thing is, it had to grow on me. My former business partner, Beverly, just loved it and would sniff and sigh with happiness while I looked on. Then I saw the customer response to it and after making these candles for every show, because I'm no fool, if they like them....you know I'll sell them....I began to like the fragrance. Now, I enjoy it too.

If you've burned soy wax you know how awesome it is. It burns longer and cleaner than traditional paraffin waxes. I use natural wicks so you are never burning metal when using the jar candles. You choose Hemp or Cotton. Hemp requires more trimming but burns very enthusiastically while cotton needs very little trimming but doesn't burn quite as brightly. Either way they perform well and will give a complete and clean burn all the way to the end of the candle.