Friendship Mixed Media Art Print, Folk Art, Purple, Watercolor, Wall Art - Friends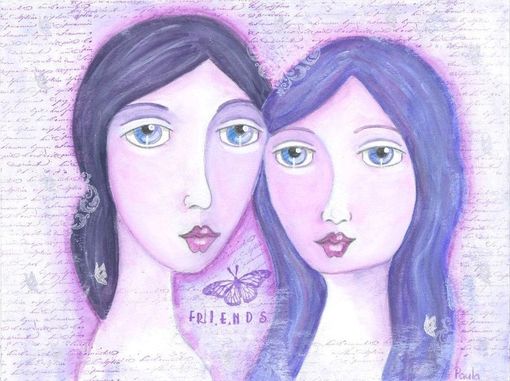 This is a print of the sixth painting in a series of seven. The series is called Lucky 7 and chronicles my journey through breast cancer treatment. Cancer was the catalyst for my journey into painting. Right after my diagnosis making jewelry was something I couldn't make myself do. Melting glass had once brought me such joy and therapy and then with 4 words "you have breast cancer" that joy was extinguished (at least for a while.) The impulse to paint however, was overwhelming. That voice that told me I needed to paint continued until I finally gave in. This original piece called "Friends" is done in mixed media and includes graphite, watercolor pencils, watercolor crayons, acrylic paint, and ink. It measures 8x10 with a .5 inch border and was professionally printed on a thick white cardstock.

She had always treasured her girlfriends but it wasn't until she was diagnosed with breast cancer that she truly understood the power and support of these relationships. One of the hardest parts for her, the biggest horror of breast cancer, was seeing the fear in her family's eyes. Already an optimistic sort, her friends were excellent in deflecting her/their fears while magnifying her/their hope. As her friend Imelda once told her; Girlfriends heals us and light us up inside. She has such gratitude for her girl friends.
"Friends" celebrates the special relationship between gal pals.

This art print, which is signed and dated on the back will be shipped to you in a clear plastic sleeve protected by rigid cardboard.

© Paula McDonough | All rights reserved.
Please note - sale of artwork does not transfer copyright.

As all monitors are different, colors may vary slightly to what you see on your screen.