Iron Gate With Hand Forged Vines And Leaves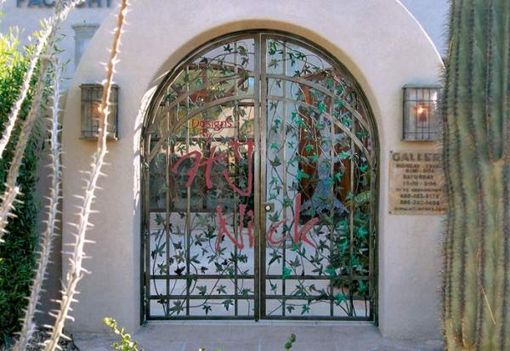 Full Arch Top Double Iron Gates with Hand Forged Vines, Leaves, and Signature.

The SAF Gallery's own grand entrance gate with varied patina finishes and accents. Solid hand forged wrought iron (no castings or hollow metals). Virtually maintenance free and guaranteed forever. Backed by our over nine decades of fine craftsmanship since 1913. You may order the gate blade only, a complete entry unit, straight top, eyebrow arch top, full arch top, single door, or double gates. Any size and style.
Dimensions: Jamb: 104 1/2"T x 83 1/2"W x 6"D - 1/4" thick solid iron Gate: (2) 102"T x 41"W x 1 1/2" thick