Full Circle Welcome Center With Truss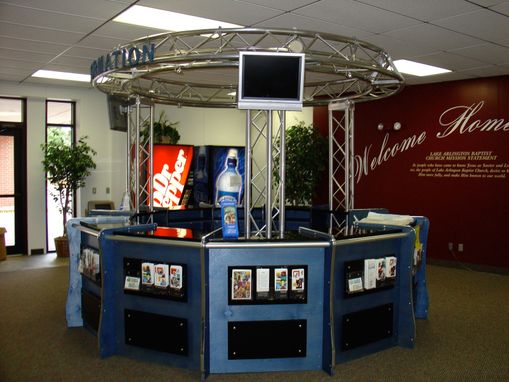 This kiosk was designed by me and engineered by Mike Carver owner of MiCar and Associates in Arlington, Texas. This modular information Desk was designed and built for Lake Arlington Baptist Church also in Arlington. It's unique design gives it flexibility to be used as a full circle, half circle, quarter circle, or individual kiosk sections. This design looks great in a multitude of situations. It is available in multiple color wood stains to give it a unique look for any area.

Our modular information kiosk is approx 12′ across and can be customized to fit your needs. The base cost of the full circle kiosk is around $14,000 depending on your needs that price could go up or down. This kiosk can also be constructed in a semi-circle as well as individual sections. The above design is the complete circle consisting of 11 individual sections with one missing for the entrance. It is also show above in a corner as a semi-circle using 5 individual sections. This kiosk is priced using laminated counter tops and stained wood finish. Price will vary depending on the finish and laminates used and any custom requests. Price does not include delivery or set up if you need either.