Fused Glass Painting In Light Of A Spring Tree Scene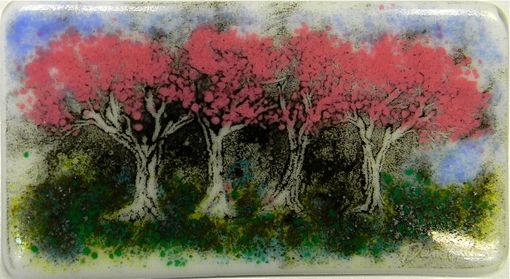 Painting in glass frits is done by sifting powdered glass onto a fused glass background.

In this "glass frit painting" I sifted black powder frits onto a 5x7" pre- fused white glass panel and then drew the tree trunks and branches through the sifted fine layer of black frit using a sharp pointed drawing tool and small watercolor brushes.

Next pink opaque glass frits the size of rock candy were applied to create the pink blossoming foliage. Additional frits in blue and green were added to develop the fore and middle ground.

The work was fused several to create a relatively smooth surface that emphasized the various frit applications.