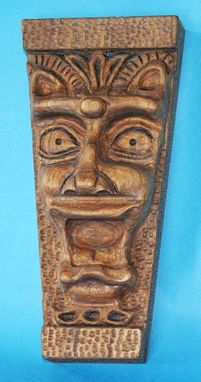 This wall hanging sculpture is based upon a design I saw in a book on gargoyles. The screaming face of a fantasy figure rests upon a keystone as you would find in the center of a medieval arch. I've made eight of these so far and plan to make at least two more. All of the faces are slightly different. This one was made for a dear friend who is a fantastic Classical and Flamenco guitar maker (Aaron Green).

This gargoyle is made from butternut - a dream to carve with a wonderful grain. I use mostly mahogany and butternut in my gargoyles because of the ease of carving and the color and grain. The finish is Tried and True polymerized linseed oil varnish. I apply several thin coats and finish them off on a large buffing wheel using Menzerna buffing compound.
Dimensions: 10"tall, 5" wide at the top, about 3" thick
All of our products are handmade
by expert makers.