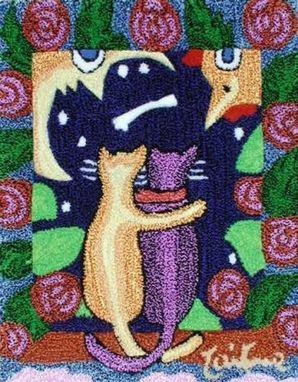 A Gentle Happy Night
Second edition acrylic rug - $450

from Zak Zaikine's series of paintings That Joyous Feeling Again.

Original - $3600

Each rug from That Joyous Feeling Again series has two versions—using my original painting as a model, the first is a highly collectible one-of-a-kind original rug which is extremely dense in thread count and intensely shaded with many varying colors to simulate the many degrees of shading in my painting. Thereafter, all second edition rugs of that image are copies of the original rug, slightly less dense and less shaded, and while they are copies, each one is still unique because each one is also hand tuffted. Both versions of each rug are created from tufted acrylic yarn, and the rugs feel unbelievably soft, just as if they were made of thick, plush, virgin wool.

The finishing of the original and second edition rugs varies slightly but unless you are a textile artist, the difference is negligible. After the tuffting is completed, the ends of the yarn are hand sheared to an even height, then hand sculpted to give the rug added dimension. Next, on the original rugs, a see-through webbed mesh is applied to the reverse of the rug, and on the second edition rugs, a layer of rug backing is applied to the reverse. Then they are finished in the same manner — the border of the original rug backing is turned over, folded with mitered corners, and glued for a perfect finish. Finally, each rug is signed and dated by me which adds considerably to its value.

Dimensions: Size approximately 21" x 27"

All of our products are handmade
by expert makers.