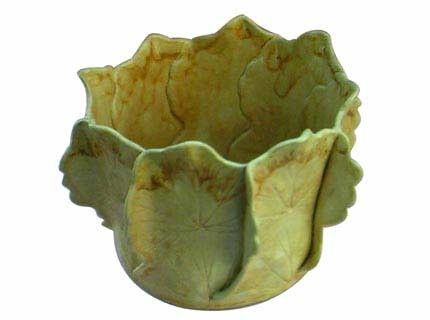 This is a fine example of my Geranium Leaf line of bowls. I make these Geranium bowls in 2", 3", 4", 6" and 8" diameter sizes

I create a working set of Geranium leaf impressions from my china - grade ceramic clay.

I then model the vase by attaching the leaves to a base, working around the base so that each leaf overlaps the same amount creating a symmetrical bowl.

I use my fingers to tweak all of the leaf edges giving the vase its own character.

After the first kiln firing (bisque) I hand brush glaze the vase with 3 coats of ceramic glaze.

A second kiln firing (glaze) turns this piece into a wonderful piece of art.

Use as a food service piece, a flower vase, potted plant holder or a potpourri container.

This is a fine example of the Art Deco style of ceramic art.

Dimensions: 5" wide X 4.5" tall
Made in Saint Petersburg, FL
All of our products are handmade
by expert makers.