Gift Tags, Set Of 6, Colorado Aspen Gift Tags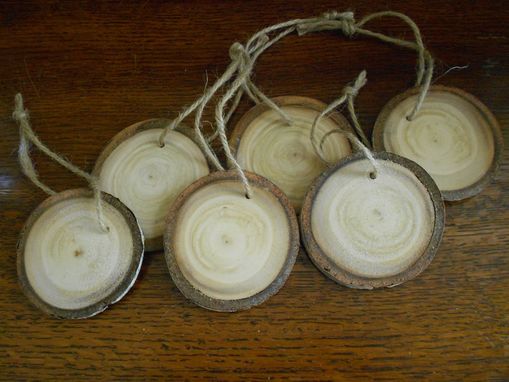 Gift Tags, Set of 6, Colorado Aspen Gift Tags

Start a new Christmas tradition with High Country Mountain Aspen gift tags.

These Aspen tags uniquely identify your gifts to loved ones. The ones who receive the gift can then write the name of the gift, giver, and date on the tag, then hang it on the tree(s) year after year--the gift that keeps on being remembered . Every Christmas as the ornaments are hung, your gift will be fondly remembered.

These handmade (well, hand cut) tags are slices of Colorado High Country Aspens, years in the making--nature's Christmas Ornaments!
All of our products are handmade
by expert makers.
David M.'s review

• Mar 7th 2015

Ben made these into ornaments for a wedding favor. They turned out exactly the way we wanted them to. I originally contacted Ben at a very busy time of year and we had plenty of time so he told me it would take a while, but he did keep to his timeline. Sometimes communication was a little slow, but that's being nit-picky. They were very neatly and tightly packaged and arrived in perfect condition. I would highly recommend Ben for this type of project.