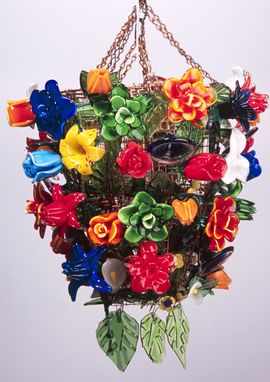 This contemporary flower chandelier contains blown glass flowers, fused glass leaves, antique flowers and leaves, all on a welded steel frame work. This chandelier would make a great addition to any sunroom, dining room or patio.
(It is not advisable to leave it out year round if you live in a climate where the temperatures get below freezing consistently.)
This piece is colorful, fun, inspiring and equally as beautiful when lit up as when the light is off. Add some color and a dash of Spirit in to your dining experience.
Dimensions: 18" x 16" x 14"