Glass Sculpture - African American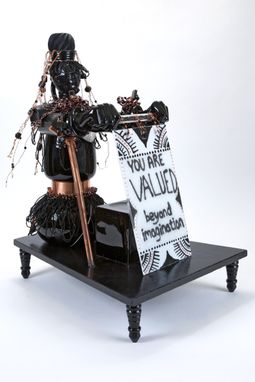 This unique piece was made as a reminder that we all have a place on this planet and each one of us is an essential ingredient in the universe of life. I was inspired by the book African adorned to create some African pieces that honored women and the adornment of women. This piece is made up of blown glass, found objects, copper tubing, painted glass, with a wood base, and lots beads made of glass and stone. This piece would make a great addition to any home, but it would also be suitable for a counseling center, a hospital setting, school, or any public place where the message "you are valued beyond imagination" is needed.
Dimensions: 29" x 18" x 22"