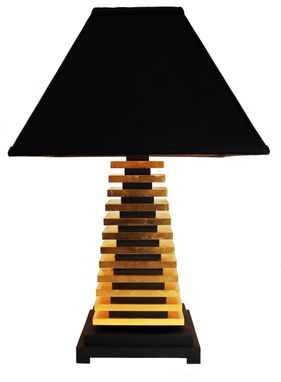 I have always liked the contrast between shinny and matt surfaces. I also like the look of shadow lines created by the separation between surfaces. I was looking for a table lamp design that allowed me to use shadow, shine, and matt surfaces together to create a distinctive look.

I also wanted to create a table lamp that produced a soft, warm-hued light. After I tried a few designs on paper, I suddenly remembered King Tutankhamun's Mask. I was impressed by its contrasting lines of gold and semiprecious stone. I thought that gold leaf would help achieve the look I wanted.

But I needed one more element. Then I realized that if I used large outer sections with smaller inner sections in the column of the fixture I would be able to create the shadow lines I wanted. I worked out my design and produced a prototype. I was pleased with the results. So I produced the design in gold leaf on the outer sections and matt black automotive finish on the inner sections. I also found a lamp shade that was lined with gold toned foil that enhanced the color of the gold leaf on the lamp base. The resulting table lamp makes a dynamic statement during the day and an impressive warm light at night.

Each of my Segmented Table Lamps is meticulously handcrafted in 52 individual steps. Each segment is cut and sanded by hand. The 23k gold leaf on each lighting fixture is hand applied. And the painted finishes are also hand applied. I use only the finest materials and finishes to achieve the highest quality results.



Dimensions: Lamp Specifications:
• Total height including shade: 26 3/4 inches
• Base height: 16 1/2 inches
• Base width: 9 inches
• Shade width: 16 inches
• Shade Height: 10 inches