Gold Pendant With Lapis Tongue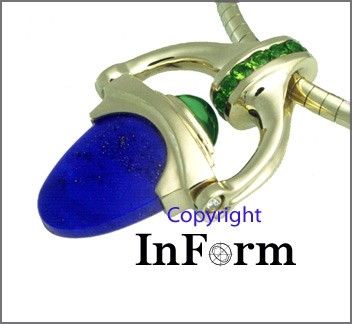 The pendant pictured here is composed of 14K yellow gold. The main stone is a particularly fine piece of lapis lazuli tongue that's been cut essentially in the shape of a tongue and has been located at the bottom portion of the pendant. Immediately above it, one elongated oval green tourmaline has been bezel set. At the very top of each outermost side, a yellow gold bezel in which a round diamond has been bezel set establishes a support structure from which this same bottom portion of the pendant is suspended.

The upper portion of the pendant provides a good size bail which can potentially accommodate many versions of chain...or even a more substantial forged neckpiece. Surrounding the bail in a vertical manner are a group of channel set tsavorites (a version of green garnet). As the upper portion of the pendant descends toward the bottom portion, it broadens and terminates on either side with an aperture that accommodates the bezels with diamonds...the combination of which forms a hinged mechanism, allowing some level of kinetic capability.

I've photographed this pendant inc combination with a yellow gold Omega chain. From a visual standpoint, this specific version of chain provides about as minimal a means of wearing the pendant as can be found. Despite the fact that I've photographed the pendant with this version of chain, the general estimate I provide for the cost of a pendant reasonably similar to this one is made ONLY for the pendant itself. It does NOT include the cost for the chain.