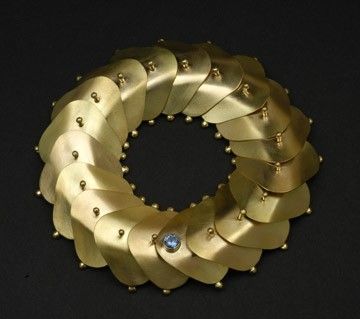 We got the call from the big New York gallery. We're in the big show! WoooHoo! Uhh... oh yeah, now we gotta make something colossal for the big show. As the anxiety mounts we call our friend who has worked with the big New York gallery for a while.
"Gold", he says.
"It mustbe gold or they won't take the work seriously." "Are you serious?! ", we ask, our creative anxiety shifting gears into financial panic.

The resulting piece incorporated enough gold to overthrow a small South American country. The 3ct custom cut sapphire was thrown in because, well...no sense in stopping with the gold.