Graceful Coral And Ivory Lampwork Glass Bead Pendant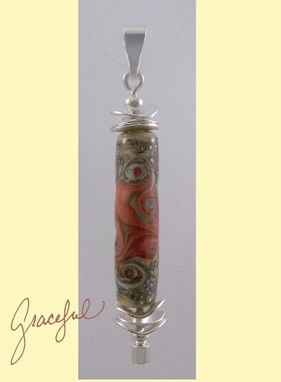 I am now introducing a new "line" of my glass beads, creating pendants made using "Bead Hoppers." As a lampwork artist who absolutely hates making jewelry, I luckily discovered these wonderful components that make jewelry design easy!

The glass bead featured in this pendant has a base of coral Italian glass, decorated with lines and swirls of Fire Lotus glass and silvered ivory. The end caps are ivory with swirls of more silvered ivory glass. The combination of silver and ivory create an interesting combination where you see the ivory outlined in black sometimes, and glittered every here and there with flecks of silver. I think ivory is beautiful with coral!

This pendant measures nearly 3 inches long and 1 inch at the beads' widest point. The beauty of "Bead Hoppers" is that they may be used with different beads. To disassemble, unscrew the bottom bead and the bead and components come off. Therefore, you might want to look at the single beads I have for sale to use with the Bead Hopper included in this sale!

♥I work with soft glass of many different brands and types. Generally I use a 3/32 sized mandrel unless otherwise noted. As a professional lampworker, my beads are kiln annealed over night for strength and durability. I personally inspect each bead for flaws and I thoroughly clean the bead holes with my trusty Dremel tool.

♥Bead sets are usually temporarily strung to inspire your creative juices! Any spacers or "Bead Hoppers" used are included in the sale.

♥All photographs are color balanced to represent the colors as accurately as possible; however different monitors do display colors differently. Photographs are sometimes larger than life to show detail.

♥If for any reason you are not be satisfied with your purchase I am more than willing to exchange or refund according to customer desires.
All of our products are handmade
by expert makers.