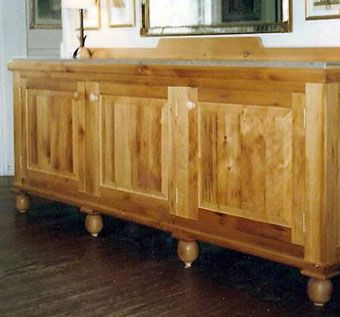 Materials: Reclaimed Pine, Birch PW, Poplar
Finish: Natural Danish Oil

This piece is built of a beautiful and increasingly rare material: pine boards from the grain bins of an old barn. These bins were built from the most knot-free wood avilable, in order to discourage vermin, and over the years acquired a polish and a mellow honey color that is impossible to reproduce. The clients had several antique country pine pieces, so the style was an easy choice. They also had me incorporate a slab of grey granite they had salvaged,which makes a handsome serving surface. The interior has two bays of shelves and one of drawers.