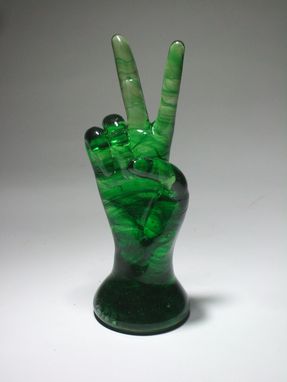 A fun decorative piece with a lasting meaning.
I have been sculpting hands out of molten glass ever since our daughter was born. I noticed how her hands had those little dimples where her knuckles would eventually be, and thought it'd be cool to try and make them out of glass.
I made a few as gifts for our doctors that helped deliver her; liked the way they looked and felt, and lo and behold it became a whole 'nother body of work for me.
In part because I work with my hands on a daily basis, but also because hands have the ability to communicate, gesture, and be tools themselves, I find myself making more and more hand sculptures that say and do different things.
I also enjoy a bit of humor and meaning in my work and hope that you do too, hence the title and meaning.
Dimensions: 5" tall, 2 1/2" wide