Greene & Greene Settee With Matching Footstools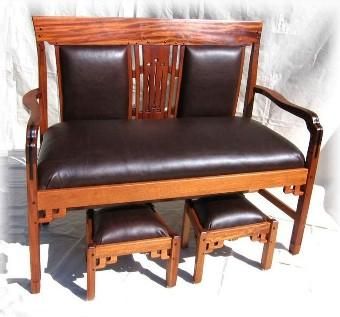 Greene & Greene Style Settee with Matching Footstools

Beautifully crafted settee with set of matching footstools. The details of this exquisite piece of furniture are the key to its appeal. The settee is crafted of hand selected boards of rich Mahogany accented with Gaboon Ebony splines and plugs. It is built using the old world technique of mortise and tenon joinery for exceptional durability. The leather hides are also hand selected for optimal beauty. There are 84 ebony plugs inset in each settee, and 14 ebony plugs on the footstools. " Cloud Lifts" were a style frequently incorporated into furnishings by Greene & Greene are used on both the settee and footstools.

Dimensions: Dimensions: Bench: 56" wide across the front and 50" wide across the back , 40 1/2 " high and 23" deep Footstools: 17" wide across the front and 13" wide across the back, 10 1/2 " tall