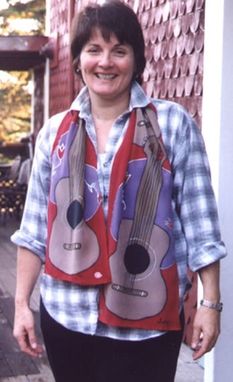 This photo was taken at a Women's Guitar Camp where several women wore these scarves as a sign of self-empowerment .Others ordered them in custom colors to gift musician friends. I have since heard that they also hang the scarves in between wearings for inspiration.
Each scarf is original, handpainted with black, gold or silver resist on either Crepe de Chine, Silk Satin or Habotai silk.
Dimensions: The scarvess can be ordered with one or two guitars in 11" x 60", 15" x 60" or 72" or on a 34" square. They all have hand-rolled edges with your choice of background color.