Hand Carved Victorian Rocking Horse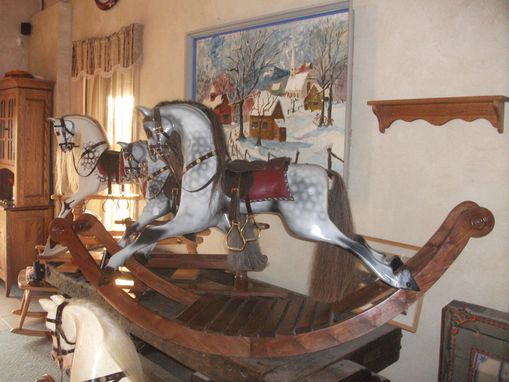 The horses body has been hand-carved from bass wood and its harness, bridle, saddle blanket and saddle are all real leather along with solid brass. Its mane and tail are real horses hair. It has been hand-painted and airbrushed and the base is built out of black walnut.

More than just beautiful to look at, what makes this horse truly unique is that it is a time capsule. Greenfield Woodworks creates its horses akin to a carousel horse, hollow in the middle. Placed inside these special horse's, is a coin, letter from the master crafter along with the two apprentices, pictures and a newspaper.

This beautiful collectible is very durable and made to last 100 yrs or more!


Dimensions: Dimensions: Length - 72" X Height 41" and width of 18" and it weighs approximately 90lbs