Hand Drawn Arkham Joker And Harley Quinn Shoes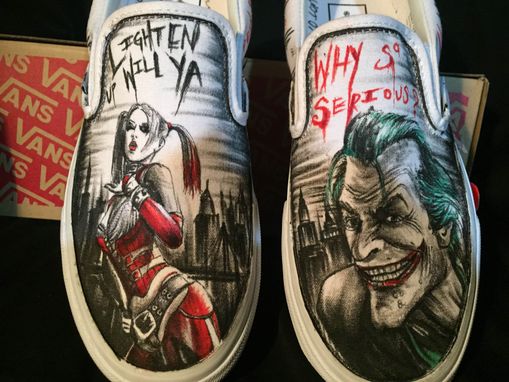 All shoes are hand drawn to your specifications. Just tell us your size, type of shoe desired and details on the design.

Custom order any size on any shoe!
Hand drawn, custom ordered canvas shoes to fit your unique personality! All shoes are hand drawn with a permanent fabric marker and sprayed with a protective waterproof spray, allowing them to be machine washed ONE time without any significant fading. Send us a photo of a family member, a pet, you favorite band, favorite movie or comic book character, we can hand draw anything you can imagine on a pair of shoes.

Shoes are drawn on Converse, low top, slip-on Vans or Toms. This allows ALL sizes to be available year round. You are welcome to send me any other pair of shoes you would like to have illustrated (Must be canvas and white or very light in color).