Hand-Dyed Color Block Quilt: Orange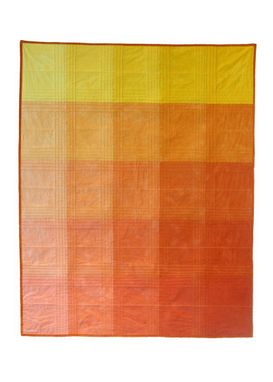 One of my favorite things to do when dyeing fabric is to create gradations of color. This quilt is made of 25 different hand dyed fabrics that gradate from yellow to red and from light to dark in each color.
All of my quilts are made with my 100% cotton hand dyed fabrics, done in small batches as I make each quilt. It is filled with 100% cotton batting. The process of hand dyeing fabric results in some variation - making each quilt unique. This quilt can be made in crib/wall, twin, full/queen, or king size.