Hand Fabricated Locket With Carved Tree Design And Hummingbird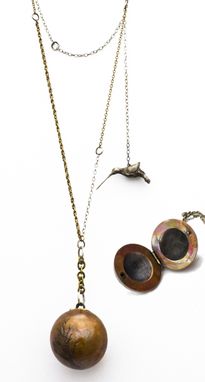 This fabricated copper locket features a bronze ball clasp that clicks into place when closed and a sculpted and cast sterling silver hummingbird. This locket was created to hold and protect a one-of-a-kind artisan crafted perfume "Hiboux" by Zee Bourdeux. The chain is a hybrid of handmade sterling silver and brass chains and antique bronze chains and feature a handmade s-hook clasp. I love to make containers and would be thrilled to work with you to create the perfect container for your needs!

When I make this wearable art jewelry for a client- I consider it a collaboration and work to really get what people are drawn to and interested in. I end up feeling like a channel- and it seems that what ends up getting created comes through me and is able to reach the visions and desires of my client, both physically and spiritually. It is my deep pleasure to work in these kinds of relationships.
All of our products are handmade
by expert makers.