Hand Forged Pierced Steel Candlebra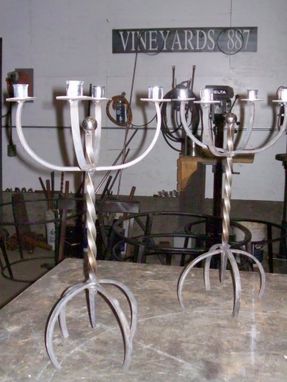 This is a custom designed salvaged metal candelabra. I designed these from some shop scrap steel- I ended up with enough material to make 40 pieces.

The center piece is hand twisted steel topped with a steel ballbearing finial - after polishing and lacquer, it shines nickel silver (the first photo shown is pre-polish with fire marks still visible).

I forged the center to pierce through both of the steel pieces criss crossing at the base.
The candle "cups" were individually hammered from steel pipe.

These candlebras were designed as an interior/table accents. Each is prepared with a clean finish coat and will not stain or discolor.