Hand Made Tile Mosaic Bathroom Backsplash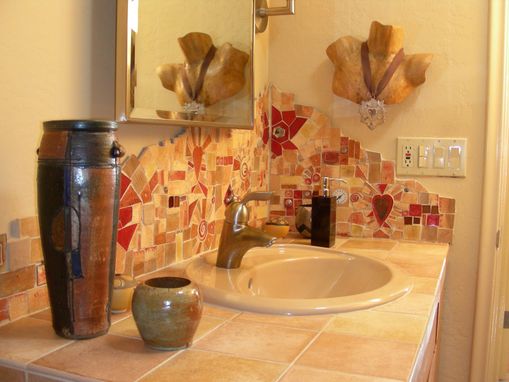 This bathroom backsplash is a unique, one or a kind art piece mosaic backsplash using a color pallet that compliments existing shower and counter top tile. Meaningful objects of the clients were incorporated into the mosiac.

All of the tiles for this project were hand cut from clay in straight line geometric shapes with a few specific shapes that would complement the client's objects. Four colors of glaze were used with a finishing splatter of mahogany brown on all the tile pieces.

The mosaic was created and assembled on a concrete/fiber board in my studio then installed in two pieces and grouted at the clients' home. This project was a collaboration with interior designer Shannon Van Zetphen.
Dimensions: 72" W by 19" H