Blackbeard Antler Scrimshaw Fountain Pen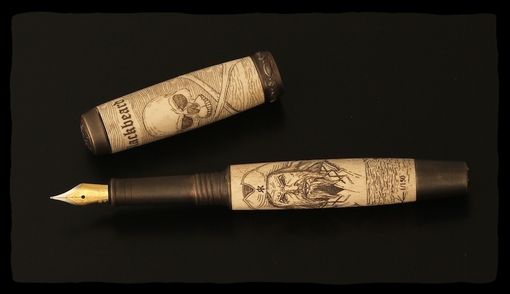 Part of the Dangers of the Deep collection, Blackbeard is scrimshawed into this antiqued antler pen with rubbed bronze finish.
The Dangers of the Deep collection will evolve into 10 pieces of artwork depicting various dangers posed by the sea both mythical and literal. Each depiction will be done in a limited edition of 150 and will have the edition number engraved into the pen. In this case, the siren sits upon the rocky shore with waves crashing about waiting to take unsuspecting seafarers to their demise. The scrimshaw work is engraved into naturally shed elk antler and the surface has been left in its natural state so you can feel the antler as you handle the pen. It will continue to patina with time. Be sure to take special care, as the surface is absorbent, ink will penetrate and stain this pen if mishandled. If you prefer an acrylic finish to protect it, please use the contact form to specify this after your order. The appointments are cast from bronze and have a hand-rubbed patina. It will come with a medium point, German made stainless nib, an international ink cartridge, a piston converter for using with bottled ink, and a glass top display case.