Hand Woven Plaid Stripe Mohair Ultra Lightweight Throw Blanket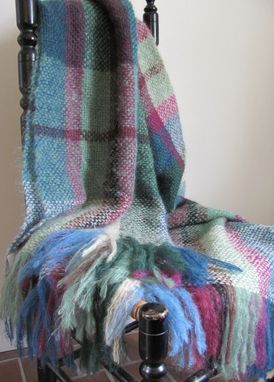 This Throw Blanket Hand Woven in Ultra Lightweight Mohair is warm and cozy comfort to keep the drafts away on cool mornings and evenings, summer or winter. It is great for curling up on the sofa for a good read or as a throw on the bed on a cold night. Satisfy your senses and let your worries drift away as you slide into dreamland. A great addition to your home decor for the Beach Cottage or Cabin in the Woods.

My Couch Throw Blankets can be made in Mohair, Wool, Alpaca, or Cotton. Prices may vary depending on materials and size. Pleas contact me if you are interested in variation of materials or size for an estimate.

This particular 57"W x 72"L Throw Blanket is woven with Plaid stripes of Sea and Sky Blues, Garden Greens, and Ivory White with grounding shots of Ebony Black, Walnut Brown and Magenta in light and luxurious mohair. Hand wash or dry-clean.