Handcrafted Buffalo Coat Rack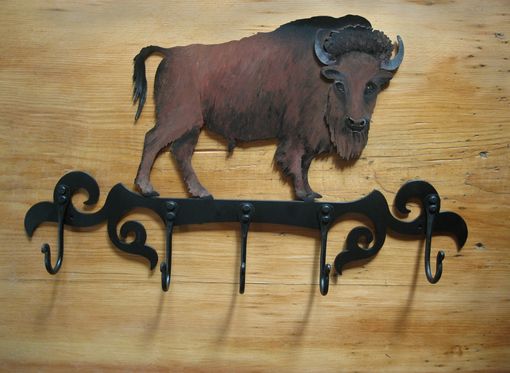 Hand forging of metal work is a tradition that goes all the way back to the original 13 colonies. These hand forged wrought iron coat racks come straight from that tradition. These wall coat racks are hand forged in Northern Vermont by Mike of Mountain Madness Forge. After forging they are delivered to Brenda, a local artist, where each piece is loving hand painted to a level of detail only a true artist can bring. Each coat rack features five wrought iron coat hooks that are double riveted for strength. NorthWoods Home Store is very proud to be the exclusive distributor of products made by Mountain Madness Forge.

These beautiful coat racks are individually hand crafted and as such small differences in shape, size and painting should be expected. These small variances are what makes the difference between a mass produced item and a truly hand made piece of wrought iron wall decor.

These wrought iron coat racks make a beautiful, functional addition to any home. Oh give me a home, where the buffalo roam.....


Dimensions: Dimensions: 2" x 12" x 24"