Handmade Porcelain Ikebana Flower Vase - Contemporary Square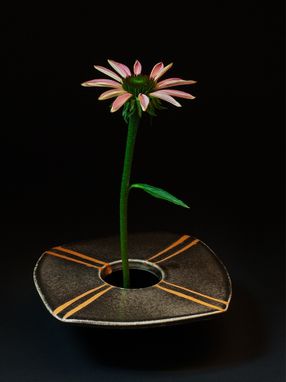 Porcelain ikebana vase with shino glaze and brushstrokes. These are also known as 'kenzan vases'. I throw these on the wheel before glazing and firing. Shino glazes can vary, so l encourage you to look at several of my shino ikebana vases to see the range in colors and designs. No vase is exactly alike, but basic designs are as seen in photos. If you prefer the lightest one in this listing, please contact me to see if I have any available. [The photos including flowers are intended to give you an idea of the range of possibilities with these vases.]

6-1/2" W x 2"H. Black three-ounce pincup provides a stable base and traditional look. Pins (also known as kenzans) and cups are made in the United States.

Each vase comes with a lovely card that reads:
"Ikebana Vases and Containers by Porcelain Artist Kathie Kline
Originally a Japanese custom that began during the mid-15th century, ikebana flower arranging now appeals to Westerners who want to explore new ways of creating arrangements. Approaches to arranging flowers in my containers can vary from playful to formal...whatever suits you!
Kenzan Vases
My kenzan vases come in a a variety of colors and designs, and they're suitable for traditional bouquets, a single stem, or a combination of stems, stalks, leaves and blooms....Remember to check water levels frequently on all vases and containers!"