Handmade Porcelain Ikebana Vase In Mother Lode Theme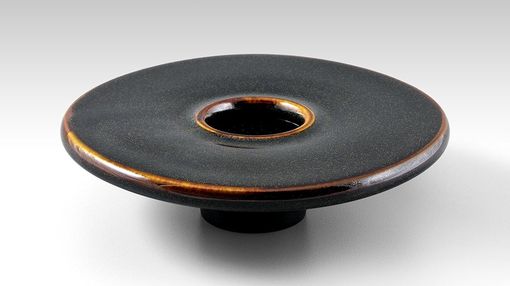 Porcelain ikebana vase, also known as a kenzan vase. Wheel-thrown, glazed, and fired by the artist.

6-1/2"W x 2"H.

Stunning dark brown shiny glaze with gold specks. As a child, I lived in the "Mother Lode" region of the Sierra Mountains of California. Rich gold deposits were discovered there during the 1850s Gold Rush. The gold specs in the glaze float playfully along the surface of the vase.

A black 3-ounce pincup provides a stable base and traditional look.

Each vase comes with a lovely card that reads:
"Ikebana Vases and Containers by Porcelain Artist Kathie Kline
Originally a Japanese custom that began during the mid-15th century, ikebana flower arranging now appeals to Westerners who want to explore new ways of creating arrangements. Approaches to arranging flowers in my containers can vary from playful to formal...whatever suits you!
Kenzan Vases
My kenzan vases come in a a variety of colors and designs, and they're suitable for traditional bouquets, a single stem, or a combination of stems, stalks, leaves and blooms....Remember to check water levels frequently on all vases and containers!"