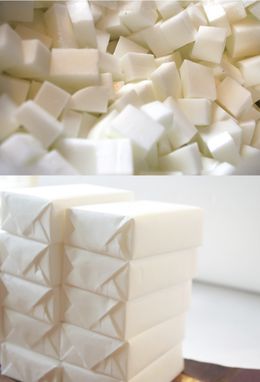 Wonderfully moisturizing soap in a generous 6oz bar has all the ingredients you want, and none of the extras you don't need.

Fragrances include:
French Lavender
Sandalwood
Patchouli
Frankincense & Myrrh
Ruby Red Grapefruit
Sweet Orange
Juicy Peach
Coconut Lime
Lime Basil Mandarin
Pink Sugar
Cedar & Spruce
Chai Tea
Spiced Tea
Peppermint
White Flowers
Leather
Natural Musk
Sailing (Men)
Woods (Men)

If there is a fragrance you desire that is not on the list, please feel free to ask. For an order of 12 bars or more I will happily order custom fragrances as available.

Minimum order - 6 Bars

Each bar is $6 up to 10 bars. Orders over 10 bars are $5 each.

Available in a rectangle or square bar.

Smaller guest sizes available on request as well as holiday shapes for giveaways and guest soaps. Smaller 1.5 oz guest size bars are a perfect hostess gift for guests, available for bed and breakfasts, and make terrific stocking stuffers at the holidays.

Private label packaging available for commercial orders. Wholesale orders available.