Handwoven Cotton Artisan Gourmet Chef's Kitchen Towels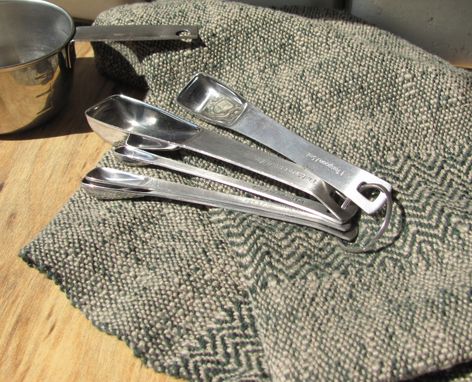 Add a little art for the appetite! Fiber is good for your soul & spirit.

Handy and Hardwearing, my Handwoven Cotton Towels are suitable for the serious or aspiring chef, as an artful addition to your kitchen, or as a gift for the gourmet host or hostess. My Handwoven towels are generously sized, approximately 18" W x 24" L, and great for use in a basket with fresh biscuits for Sunday morning brunches or to dress up your dinner rolls for potluck parties and celebrations. These towels are meant to be used and enjoyed. Your hands will love the feel of the natural cotton and it will last for years. A clean and simple look will refresh and renew your spirit.

Many of the patterns I use are classic, yet contemporary in color combinations and in simplicity of style. They can be solid or striped, with or without borders, mostly in Twills and Plain Weave Variations.

This piece is woven with one color ground and one color fill, Pine Green and Khaki Cottons with Herringbone Twill Borders, and can be varied to have Allover Patterning with Plain Borders, Diamond Twill borders, or Allover Diamond Patterning. This is a dark color combo for all those worried about getting it dirty, but it can also be made in other combinations! Machine washable and dryable. Each towel is hemmed by hand.