Handwoven Cotton Recycled Rag Rug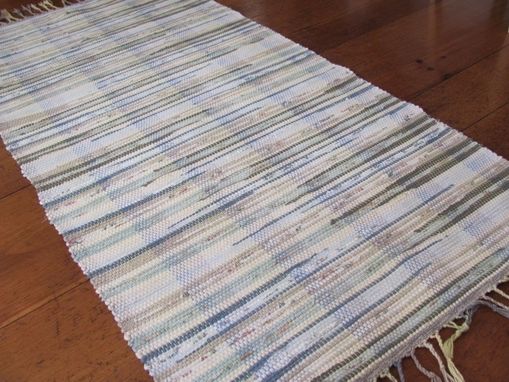 Bring a little fresh air and sunshine into your house with my Handwoven Recycled Cotton Rag Rugs for Your Beach Cottage or Country Home! My Recycled Cotton Rag Rugs are both colorful and durable. They are designed and made individually with a painterly style, often as studies in color or themes. They can be hung on the wall, thrown on or under a table, or fit in small spaces that need a little something to brighten them up. The color combinations can vary in tone, and size can be customized to fit your home. Please contact me for more information and estimates. Similar rugs can also be made with wool rag, although the colors and textures will vary from cotton. Please look for an example in my portfolio here.

My cotton rugs use cotton wefts on cotton warps, recycling old sheets and other fabrics. I fold the cotton rags carefully to hide the raw edges for a smooth, sleek look (no messy frayed edges if I can help it!), and place them in one, at a time to overlap with the previous one to form a tight weave. Yes, this takes time, but gives it a more finished look and also raises the quality.

The warp in this "Spring Shore" rug is yellow, gray, blue, and green rug has rags in muted yellow, blue and green tones with white and hints of rose. It is approx. 28"W x 58"L. Fringes are hand-tied and twisted.