Handwoven Cotton Twill Stripe Table Runner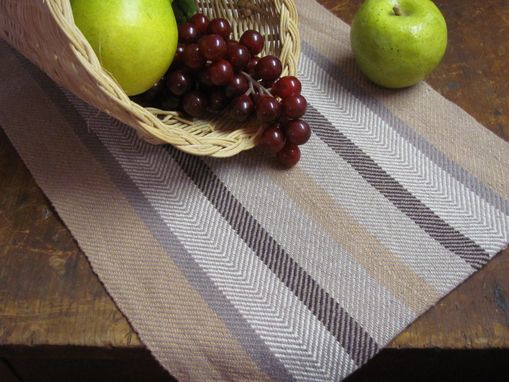 Dress up your Home Decor with a Handwoven Table Runner! Occasionally all you need is a little something as a centerpiece to highlight your table, buffet, or sideboard decor for seasonal festivities, to put under everyday bowls and bouquets to protect surfaces from scratches. Runners also look good on a bookcase or coffee table, in the den or in the office.

The patterns I use are classic, yet contemporary in color combinations and in simplicity of style. Color combinations can be varied to go with your own personal style or decor. This Table Runner can also be made in varying widths & lengths. Please contact me for price estimates for size variations.

This 11"W x 48"L Autumn Handwoven Cotton Table Runner is woven with a ground warp of Caramel, Stone Gray, Fudge Brown, Natural and Beige Stripes balanced with a Mocha Brown Weft giving it depth of color and tone. The Twill Weave reverses across the width to give both Vertical and Horizontal motion. The hems are finished by hand. Machine washable and dryable.