Handwoven Linen Lace Stripe Table Runner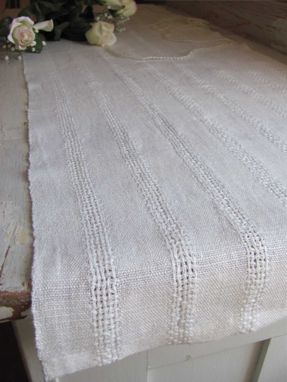 Occasionally all you need is a little something as a centerpiece to highlight your table or sideboard for seasonal festivities or under everyday bowls and bouquets to protect surfaces from scratches.
This Table Runner would make a great wedding gift or add to your celebratory style for holidays and other special occasions. The patterns I use are classic, yet contemporary in color combination and in simplicity of style. I like to use ivory or natural gray linen with a bit of subtle texture. Add a little elegance to your lifestyle with heirloom quality linens. Perfect for the traditional or rustic setting, shabby chic style, or country farmhouse. Variations of this piece in width and length can be made. Please contact me for further estimates.

This Handwoven Linen Table Runner is woven of a textured singles yarn with a lace stripe pattern running along its length, at 10"W x 80"L. The hems are finished by hand.