Hanging Metal Christmas Tree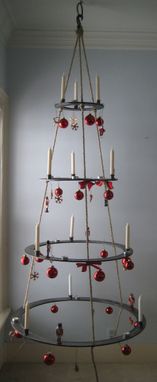 When these 4 flat rings of steel are hung evenly spaced, it resembles a Christmas Tree. Taper candle holders on every ring, holes drilled for rope for hanging, wide enough to accommodate tea lights on each ring. Add your greenery and decorations for a unique Christmas Candelabra!
Dimensions: Overall height depends on the spacing of your roping. Bottom ring is about 36" across, top ring is about 12" across.